SBP issues new 100 rupee note
By Zeus Spawned
ISLAMABAD: The Director General of State Bank of Pakistan (SBP) Mr. Maghaz Machharji announced the issuance of a new one hundred rupee note in a surprise move today. This new move came just a few days after the government undertook a massive campaign to revive the country's dwindling economy.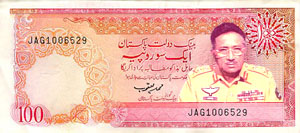 "We feel that the country has lived with the same image for a very long time, and it is time that we changed this image for the better of the country, and I feel that a better country's image would make everyone live better," said Mr. Machharji, and then got confused. He was accompanied in his chambers by the board of directors, his trusty chamchas (sidekicks) and one member of the military personnel. The said military officer, who did not disclose his identity, toyed around with the directors at random with the tip of his bayonet and cackled with insane glee.
The immediate reaction to this move in the market was a favorable one. One dealer was quoted as saying that business is good for him since people are more willing to part with their money. "No one wants to screw around with the army in their pockets," he explained.
Not all reactions were as favorable, however. The leader of Jamaat-e-Islami, Qazi Hussein Ahmed, lashed at the action of SBP, but didn't condemn the army directly, apparently out of fear of getting the "point" from the afore-mentioned military official. "This is sacrilege," he said. "How can you have a picture on the note without the mandatory Jinnah cap? Officers responsible for this criminal oversight should be sacked immediately." Of course, he neglected to say anything about the rites of the person who owns the darned cap. Also, he cut quite a peculiar pose with his beard flailing about in the air as he spoke, and the humble reporter felt no one would take him seriously.
Despite this, one SBP official did weasel out of his cabin and explained why the cap was so untactfully neglected. "It was too hot that day," he explained.
Sources in Karachi said that this move was much anticipated after General Musharraf was spotted hopping the Express Coaches (dubbed as Flying Devils) in Karachi. The general was reported to have gotten off at Bali's to get a haircut, and then proceeded to Jimmy's Studio. An army official from the local barracks said he was "surprised" to receive such reports. "We had to cordon off the whole area despite the fact that there was a lungar (food distribution) at Abdullah Shah Ghazi's mazaar (mausoleum)."
Mr. Atal Behari Vajpayee, the nouveau elect Prime Minister of India, was "happy" to see this change. "I believe that this move shows the confidence of the Chief Executive in his nation," he said. Later, Mr. Vajpayee parried questions by the press whether he intended to emulate this move by saying that "such a move would certainly count toward the confidence building measures, but would have to be sanctioned by the two houses first (a triviality that General Pervaiz can do without)," he added.
The spokesperson for Gen Pervaiz interpreted this response by the Indian head of state as a positive one, and pledged that Pakistan would contribute to the confidence measures by flying Jimmy and Bali's crew (whether they want to go or not) to Delhi by Air India (India's official international carrier) to perform the same miracle for Mr. Vajpayee. "We are very hopeful that this confidence building measure would help solve the matter of Kashmir," he concluded.
For more information, click here.

The News International, Pakistan
Update | World | National | Karachi | Islamabad | Lahore | Business
Stocks | Sports | Editorial | Opinion | Newspost | Cartoon